Help the Rainbow Warrior take action against Woodside
This may be our biggest opportunity yet to stop fossil fuel giant, Woodside, from harming marine life and exploiting our oceans for climate-wrecking gas.
For 50 years, Greenpeace ships have protected our natural home by:
Voyaging to remote parts of the planet

Bearing witness to environmental destruction

Conducting ground-breaking scientific research

Defending democracy through non-violent direct action
Our ships and campaigns are 100% funded by supporters so we can remain fiercely independent from governments and corporations.
This may be our biggest opportunity yet to stop fossil fuel giant, Woodside Energy from harming marine life and exploiting our oceans for climate-wrecking gas by showing the world what is at stake.
Your regular gift, just once every four weeks, will ensure we have a stable base of funds for our ships to fight for a clean and safe future for our planet and all who call it home.
Your tax-deductible donation every four weeks will help fund our urgent campaigns.
Your tax-deductible, one-time gift helps fund our urgent campaigns.
Your donation today can help power the Rainbow Warrior's voyage
ACT
Can supply and maintain rigid hull inflatable boats so campaigners can get to places our ships can't and if needed take peaceful action to show the world what is at stake.
INVESTIGATE
Can support independent scientific research in places like Ningaloo Reef to help build a better understanding of the damage being done to our marine ecosystems.
Woodside's dirty gas threatens marine wildlife and our climate
Woodside's Burrup Hub project could impact 12 different marine parks, including Ningaloo Reef. It would put marine life at risk and as the gas is burnt, plunge us even deeper into the climate crisis.
6.1 billion tonnes
Over its lifetime, the Burrup Hub will belch out 12 years of Australia's emissions

54 threatened species
Dredging, drilling and seismic testing put vulnerable marine species, like whales and turtles, at risk
You can help protect Western Australia's marine life.
Greenpeace campaigners, scientists and activists will voyage up the Western Australian coastline to expose the devastating impacts faced by marine life and confront Woodside head-on.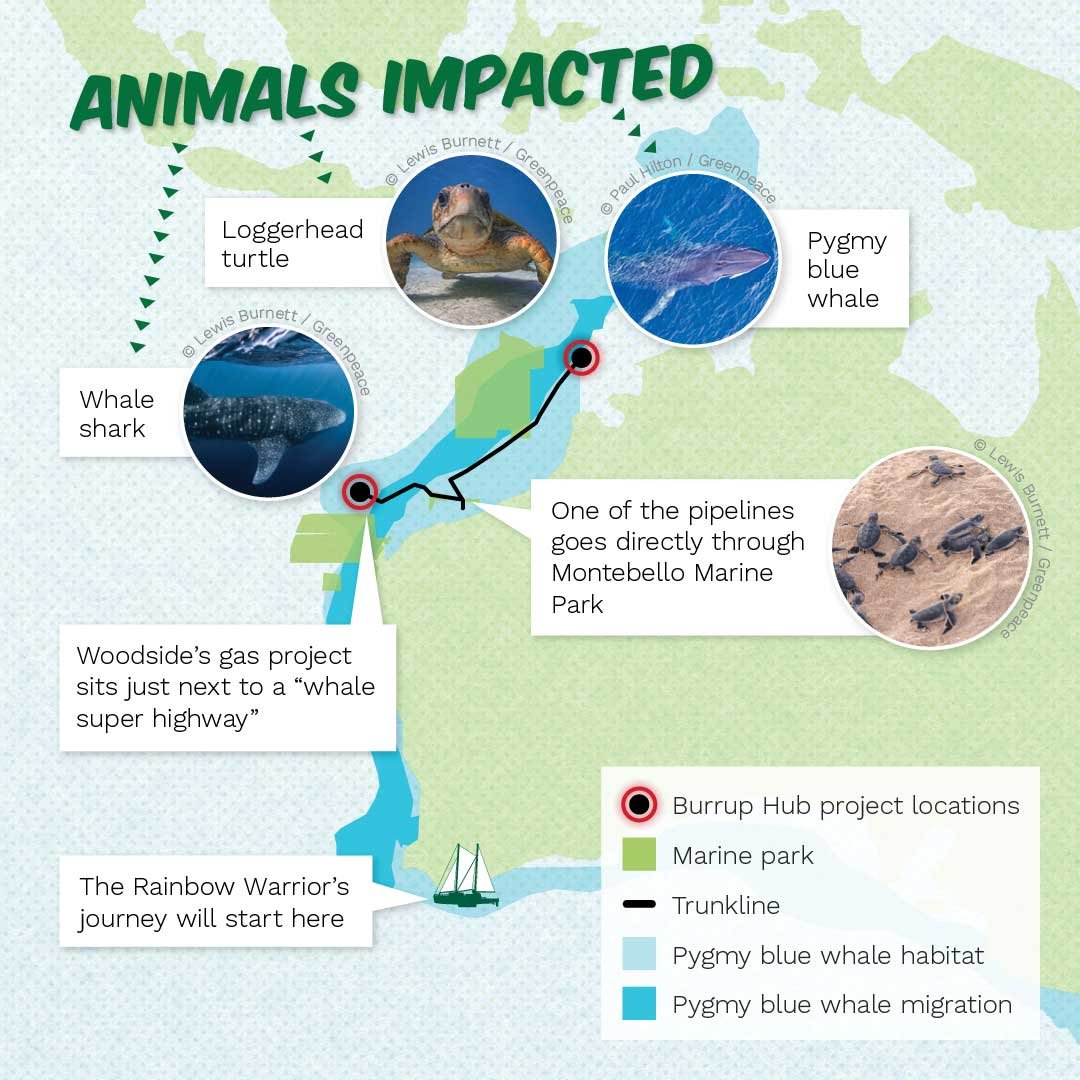 Have you heard of these iconic moments of the Greenpeace ships?

1971
Greenpeace was founded when a small group of activists in Vancouver set sail to the Amchitka island off Alaska to try and stop a US nuclear weapons test.

1977
Activists in inflatable zodiacs took on a Soviet whaling fleet in Albany, Western Australia – the last whaling station in the English-speaking world.

1985
The Rainbow Warrior was bombed by French secret service agents, tragically killing Greenpeace photographer Fernando Pereira.

1995
Greenpeace activists scaled and took up residence on the Brent Spar, a disused oil platform, to stop its owner, Shell, from dumping the rusting hulk and its highly toxic contents to the sea bed.

2008
Members of the Esperanza crew and renowned coral scientist Dr John 'Charlie' Veron placed three underwater banners on the Great Barrier Reef issuing a dire warning about the fate of the reef.

2010
Greenpeace crew on board the Esperanza take action against the export of French nuclear waste to Russia.

2011
The Rainbow Warrior III, Greenpeace's first purpose-built vessel, was officially launched in Autumn 2011.

2013
The Arctic Sunrise was involved in a peaceful protest against an oil rig when the Russian Coast Guard boarded the ship and seized the crew at gunpoint, arresting all 30 members.

2016
Crew from the Esperanza in the Indian Ocean recovered FADs (fish aggregation devices) to document and peacefully oppose unsustainable fishing by the world's largest tuna company.

2017
During a joint high sea operation with Greenpeace, Guinean fishery inspectors on board the Arctic Sunrise, checked and arrested a Chinese fishing boat after shark fins were discovered on board.

2021
Scientists aboard the Arctic Sunrise conducted ground-breaking research on remote penguin colonies of the Antarctic Peninsula. Investigating the impacts of the climate crisis on Antarctic penguin populations, they discovered how changing ocean temperatures and sea ice loss are altering important penguin habitats.
You can help power the Rainbow Warrior to stop Woodside and protect marine life in Western Australia